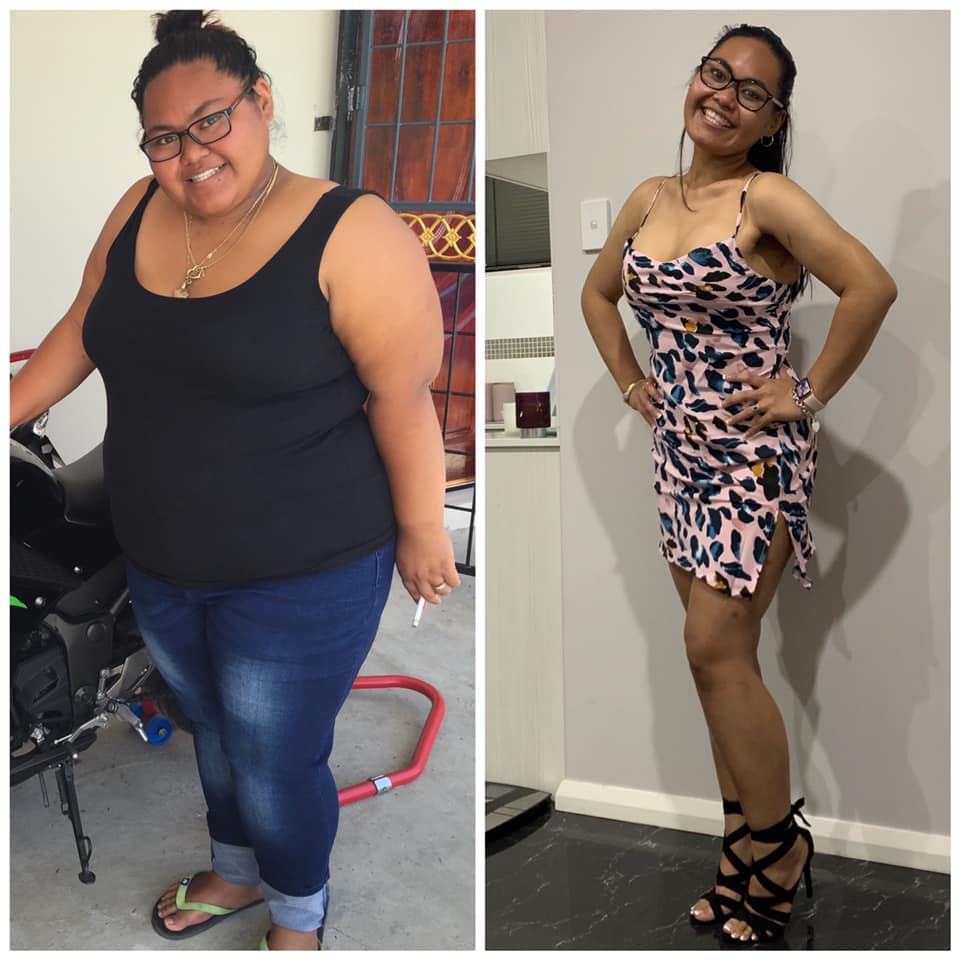 Facts About Mia's Extreme Makeover
Plastic Surgeon: Dr. Ring
Procedures:
Breast Augmentation, Breast Lift, Extended Tummy Tuck, Arm Lift, Side Lift, Thigh Lift, and 1 area of VASER Liposuction.
Implant Size: 300 CC Mentor implants high profile.
When are the after pictures taken: the before picture was taken before her weight loss surgery, and the after picture was taken 3 weeks after the skin removal surgery.
How much did it all costs?
687,500
THB / approx AUD 32,999 / approx NZD 34,639.
How Long time did Mia stay in Thailand? 28 nights in Thailand, 11 nights in hospital, and 17 nights in the serviced apartment.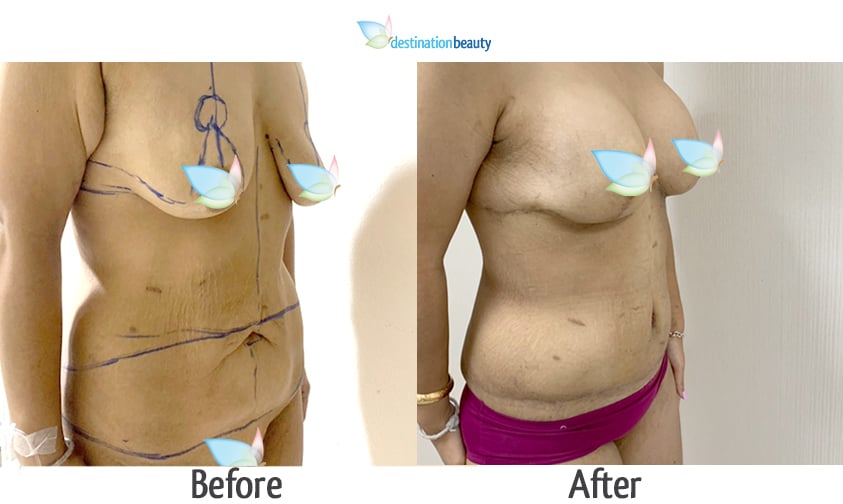 "3 weeks post breast lift and breast augmentation, arm lift and side bra lift. 2 weeks post extended tummy tuck, mons lift, thigh lift and outer thigh lipo! Swelling still through the roof but nice and flat in the morning. My thighs are so painful from the lipo but I am so happy already with the outcome! My arms are my favourite so far and can't wait for my boobs to drop and fluff out! Thank you Dr Ring 😍❤️".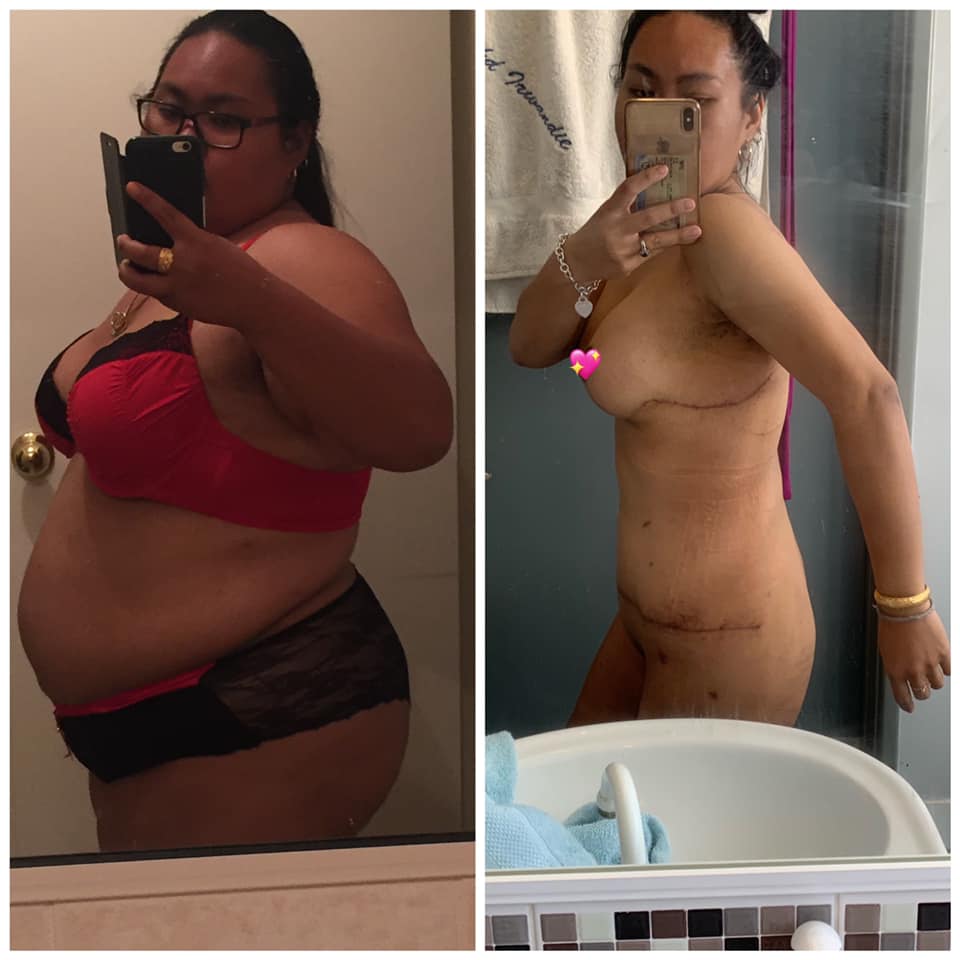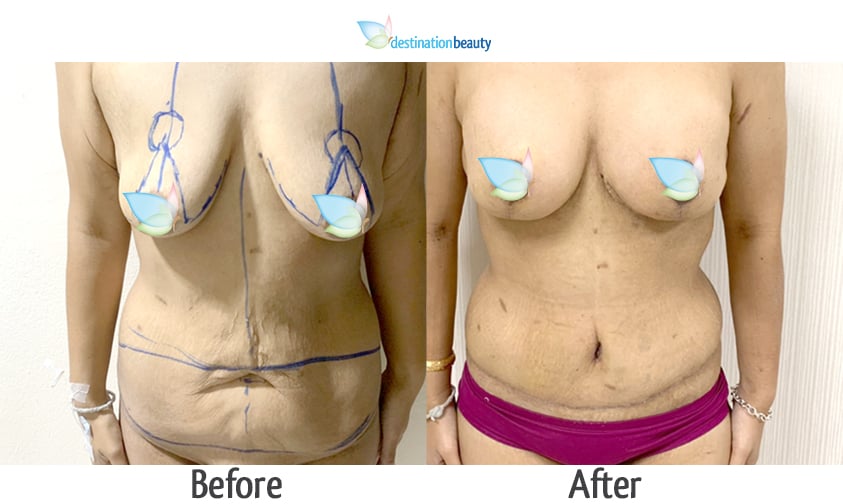 About Mia's Extreme Makeover in Thailand
Mia lost 70 kgs and needed to have skin removal surgery to get rid of her loose and excess skin. She had Extended Tummy Tuck, Breast Augmentation Breast Lift, Arm Lift, Side Lift, Thigh Lift, and Liposuction and her surgeon was Dr. Ring.
With massive amount of weight loss, she was concerned about the sagging breast, tummy, and thighs... her rep discussed Mia's pictures with Dr. Ring and he suggested the following procedures; Extended Tummy Tuck, Breast Augmentation Breast Lift, Arm Lift, Thigh lift, and Liposuction to be performed.
Mia is very happy with her results, she can now wear a nice dress and shorts without having to worry about the excess skin.
How can you get started on a extreme makeover or other procedure?
At Destination Beauty, we are here to help you, simply complete the online evaluation form with pictures and we will discuss your case with one of our capable plastic surgeons (or bariatric surgeons). CLICK HERE to complete your evaluation form today. Feel free to email
info@destinationbeauty.com
with any questions.
Your next step towards mummy makeover in Thailand
We offer a Free Evaluation and Quote. Simply fill in Your Free Evaluation Form – Click Here. CLICK HERE to see the mummy makeover packages
See more stories about skin removal surgery - see Nicole's extreme makeover in Thailand